CANOVA | THORVALDSEN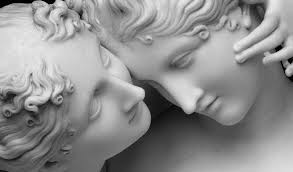 CANOVA / THORVALDSEN
      Gallerie d'Italia Museum  –  Milan
       from October 24th to March 15th 2020
With more than 150 works on display, a major exhibition for the very first time enables visitors to compare the two great contemporaries and rivals, Canova and Thorvaldsen, heralded as the founders of modern sculpture.
The exhibition in Milan at Gallerie d'Italia Museum has been set up in collaboration with the Thorvaldsens Museum in Copenhagen and the State Hermitage Museum in St. Petersburg. Among the other contributors are such prestigious museums as the Vatican Library, the Uffizi Galleries in Florence, the J. Paul Getty Museum in Los Angeles, the Museo Nacional del Prado in Madrid, Milan's own Pinacoteca di Brera gallery and Pinacoteca gallery of the Ambrosian Library in Milan, the Metropolitan Museum in New York, the Museo e Gypsotheca Antonio Canova in Possagno, the National Gallery of Ancient Art in Rome and the Gallerie dell'Accademia in Venice.
This is an unmissable opportunity to admire the most important works of art by Canova and Thorvaldsen, together for the first time. It is a story about the good fortune they enjoyed during their lives and the mark they left on the history of art, which has influenced countless numbers of students, followers and imitators.
The Italian Antonio Canova (1757-1822) and Danish Bertel Thorvaldsen (1770-1844), were two "modern classic" artists who transformed the very idea of sculpture itself and its techniques to create immortal artworks that have become popular and have been recreated throughout the world.
The city of Rome — where both spent a good portion of their careers — was the arena in which these two illustrious masters originally came up against one another: Canova arrived in Rome in 1781, where he died in 1822, while Thorvaldsen settled in the city in 1797, spending the next 40 years there.
The acclaim they received from contemporary critics is representative of a civilisation that admired ancient works, yet yearned for modern art at the same time — a duality that both artists masterfully interpreted and used to create their works. Canova was a revolutionary artist who gave sculpture precedence over other forms of art by confronting ancient works and transcending them. Keeping a close eye on the work and strategy of his rival, Thorvaldsen was inspired by a stricter and more conservative adherence to classical norms, beginning a new period of Nordic art inspired by Mediterranean civilisations.
With 150 works divided into seventeen sections, the aim of this exhibition is to document the extraordinary complexity of works created by Canova and Thorvaldsen — intended for high-profile collectors both in Italy and abroad — and the huge following that their sculptures had, by continually comparing them with other artists of any nationality.
The Gallerie d'Italia in Milan (there are also Gallerie in Naples and Vicenza), an initiative of the Intesa Sanpaolo banking group, is on Piazza della Scala. It is open Tuesday to Sunday from 09.30 to 19.30, and additionally on Thursday until 22.30. Entrance costs €10, with concessions at €8.